In the Kitchen
Ingredient Spotlight: Celery Root
Oct 24th
An unsung hero among root vegetables, celery root is revered by Ayurveda for its healing properties, metabolic effect and complex, earthy flavor.
Celery Root (aka celeriac, celery knob)
Celery root is a bit messy to work with. It's worth the effort, though, as this cold weather vegetable nourishes us with potassium and phosphorus and helps us clear ama.
BOTANICAL NAME • Apium graveolens
SANSKRIT NAME • unknown
AYURVEDIC ATTRIBUTES
Taste • sweet, slightly bitter and sour
Qualities • heavy, rough
Metabolic Effect • cooling
Post-digestive Effect • sweet or sour
Dosha Effect • balances all three doshas
Healing Benefits • supports the lymphatic, nervous, digestive and urinary systems
SOURCING
• Buy celery root (ideally with its stems and leaves attached) from the farmers market or grocery store. Select small and firm knobs. Before refrigerating, cut off the roots from the stems and store them separately.
SEASON
• Celery root is seasonal in the fall, winter, and early spring.
DIGESTABLITY
• A crunchy celery root can increase Vata and bloating; that's why I recommend cooking it until soft but not mushy.
• Good digestive and flavor seasonings include caraway seeds, fennel seeds, lime juice, parsley, thyme, and nutmeg.
COOKING TIPS
• The messy part of working with celeriac is its knobbiness and dirt-filled crevices. I handle this by peeling the root with a knife.
• Use a small amount of the slightly bitter celery root stems and greens in soups and stews.
• You can stew, sauté, stir-fry, puree, braise, marinate or roast celery root.
USE CELERY ROOT WHEN YOU NEED TO:
• lower blood pressure
• reduce inflammation
• lose weight
• relieve indigestion
• eliminate kidney stones
Related Articles and Recipes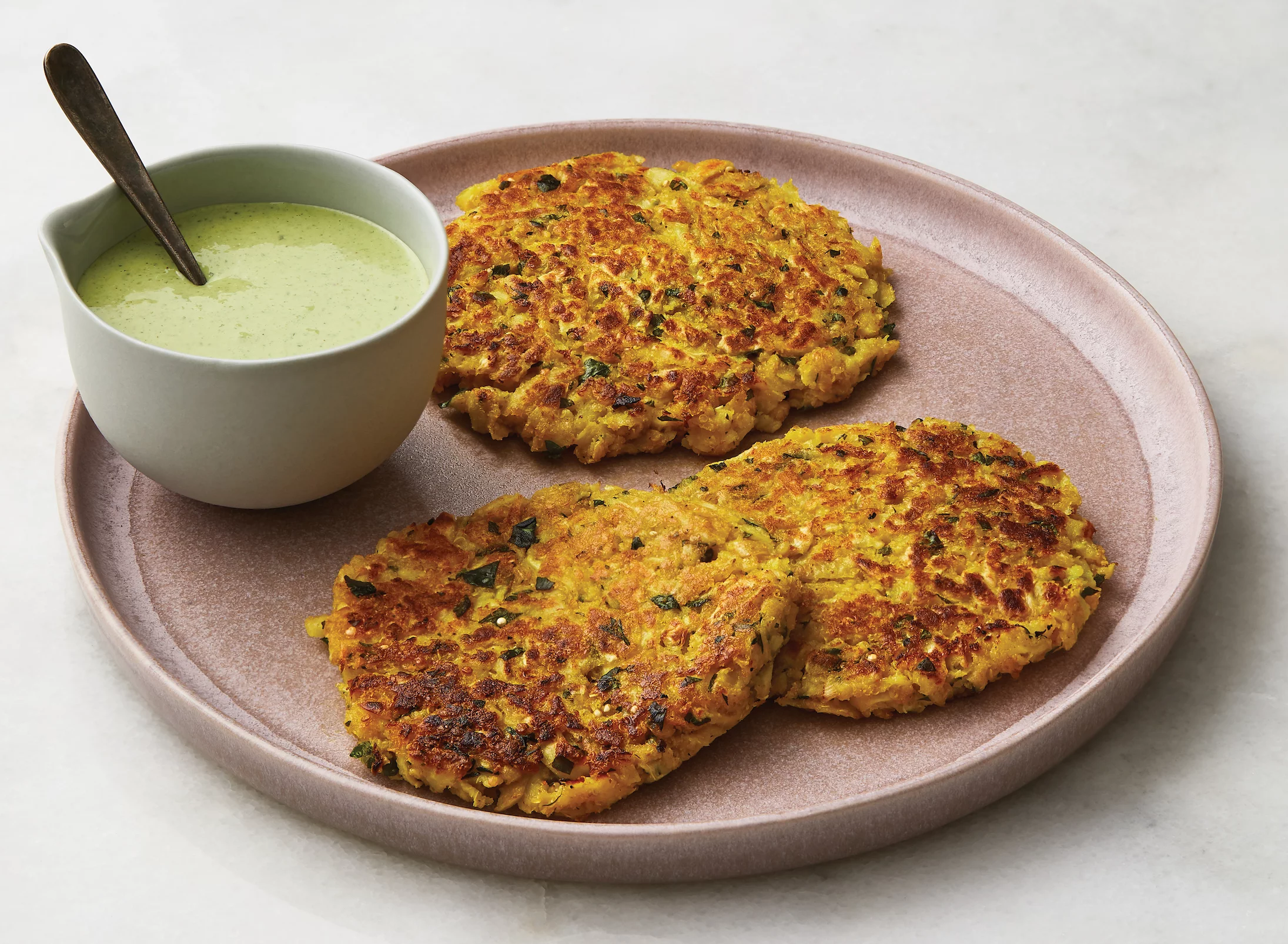 Recipes
A healthier, more balancing alternative to potato pancakes. Although they're great any time of year, Divya prefers them in the colder months.
In the Kitchen
Taro root serves a number of essential functions in Ayurvedic cooking. Not only is it a potato substitute and egg replacer, it's also highly medicinal and detoxifying.