Recipes
Celery Root and Taro Pancakes
A healthier, more balancing alternative to potato pancakes. Although they're great any time of year, Divya prefers them in the colder months.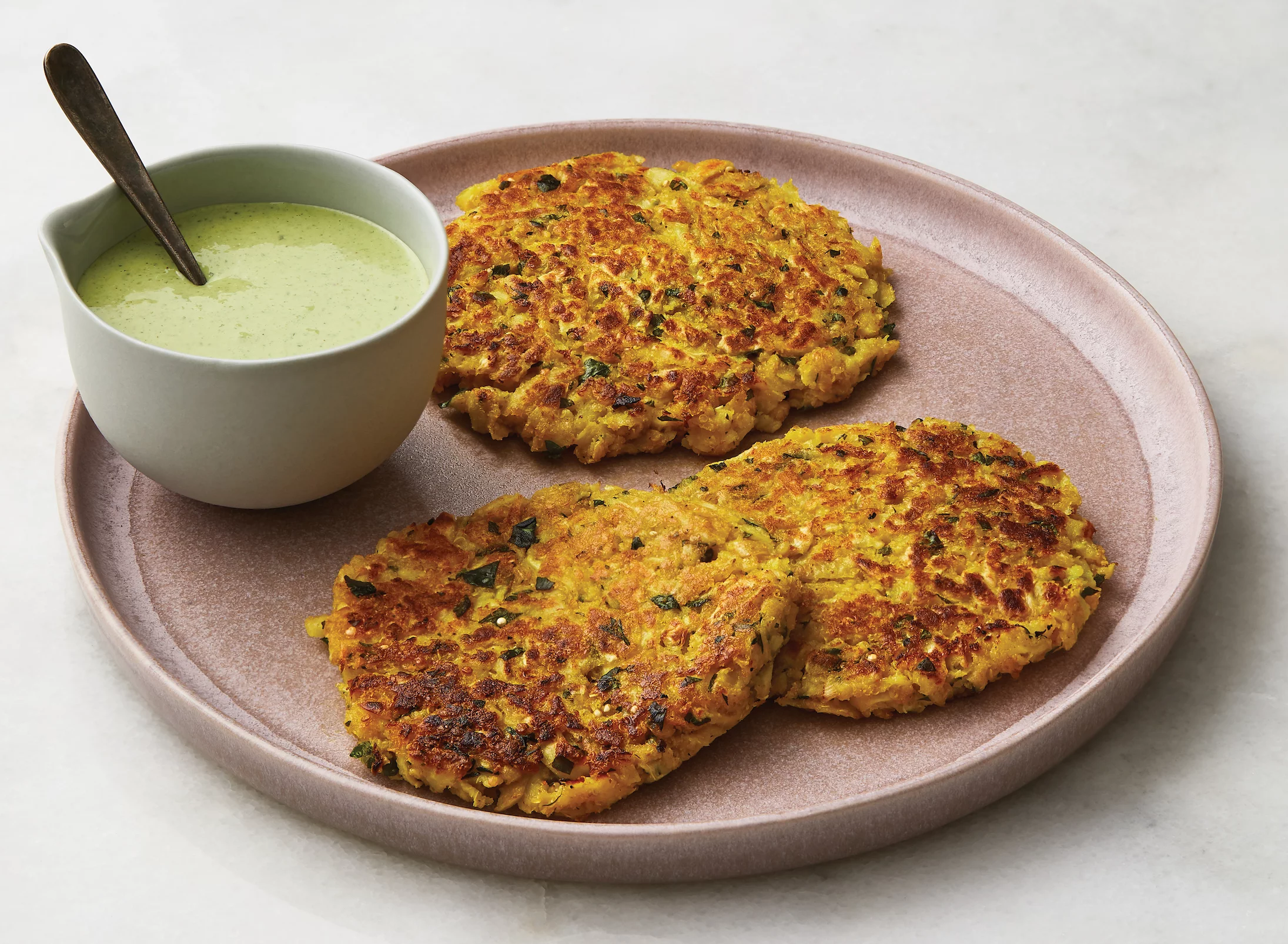 Photo ℅ Rachel Vanni in Joy of Balance
This recipe is from Divya's cookbook Joy of Balance
Potato pancakes are present in practically every European cuisine, including Bulgarian. Growing up, I remember my dad making patatnik with grated potatoes and feta cheese—it was so yummy! You might have memories of Jewish latkes, Irish boxty or Czech bramboraky. This is my potato-free version of the popular pancakes, inspired by a similar recipe in Miriam Kasin Hospodar's Heaven's Banquet.
These pancakes are beautifully browned and so delicious. Sweet and savory, with a subtle nutty tone of the roots' earthiness—I would enjoy them anytime, but they feel especially balancing in the cold weather. The taro not only enhances the taste but also replaces an egg's binding effect.
Much more nutritious and flavorful than their potato cousins, Celery Root and Taro Pancakes draw attention and win praise every time we serve them at our cooking classes and events. Try them with our Sweet and Smoky Sauce. I include many other sauces and dips that are perfect for this recipe in my cookbook Joy of Balance.
You can learn more about celery root here.
You can learn more about taro root here.
Prep: 40 minutes | Cook: 30-40 minutes
Makes nine 3 1⁄2-inch wide pancakes | Gluten free, Dairy free
Ingredients
1 cup quinoa flakes
3 cups peeled and medium-grated celery root (from 2 large pieces)
1 cup peeled and medium-grated taro root (from 2 medium pieces)
1⁄4 cup fresh parsley leaves, minced 1⁄4 cup fresh basil leaves, chopped 2 tablespoons (12 grams) oat flour
1 teaspoon salt
1⁄2 teaspoon ground turmeric
1⁄2 teaspoon freshly ground black pepper
2 tablespoons fresh lime juice
3 tablespoons Cultured ghee or coconut oil for panfrying
For Vata or Pitta Balancing: Enjoy as is
For Kapha Balancing: Serve with a hot sauce, or add 1 seeded and minced green Indian or Thai chile with the parsley in Step 2.
Instructions
1. Place the quinoa flakes in a small bowl, add 1⁄2 cup water and fluff with your fingers to make the flakes slightly moist and plump (they should not be dripping wet).
2. In a large bowl, toss together the celery root, taro, parsley and basil. Fold in the quinoa flakes, oat flour, salt, turmeric and pepper and mix well. Stir in 1⁄4 cup water and the lime juice.
3. Wet your hands and shape the mixture into 9 equal balls, each about 2 inches in diameter. Of course, you can vary the size, smaller or bigger, according to your liking.
4. Heat 2 tablespoons of the ghee in a cast-iron griddle over medium-low heat. Shape each ball into a 3 1⁄2-inch-wide and 1⁄3-inch-thick patty, and place it onto the hot griddle; repeat with the remaining balls to fill the griddle. Panfry, turning them with a sharp metal spatula, until each side is golden brown and slightly crispy, 7 to 10 minutes per side. You want to make sure that the middle layer of the pancakes is cooked—that the vegetables are not crunchy. Add more ghee to moisten the griddle and regulate the heat as you go—if your pan starts to smoke, lower the heat. Lay the cooked pancakes on a sheet pan or large platter.
5. Serve immediately with your sauce of choice. If you're not serving them right away, keep the pancakes warm in the oven between 175°F and 200°F.
Variations
If you cannot find taro root, substitute it with 2 extra cups of grated celery root or parsnips. Add 1 tablespoon arrowroot powder and 1 more tablespoon oat flour in Step 2.
Replace all or half of the quinoa flakes with almond meal (the remaining pulp from making almond milk).