In the Kitchen
Ingredient Spotlight: Taro Root
Oct 24th
Taro root serves a number of essential functions in Ayurvedic cooking. Not only is it a potato substitute and egg replacer, it's also highly medicinal and detoxifying.
Taro
Taro is one of the earliest cultivated tubers on earth. It is prominent in the culinary cultures of the Pacific, but it also grows in the north. In the landscaping of New York City, taro serves as a decorative plant because of its beautiful philodendron-like greenery.
I first tasted taro in Vrindavan, India, where it is known as arbi. On the spiritual holiday of Radhashtami, every household in town would make a taro preparation and take it to a temple.
Taro is called "potato of the tropics," but it is not a nightshade vegetable; that's why I use it as a potato substitute. When swapping taro for potato, keep in mind that taro is a little pastier and stickier in texture. Taro surpasses potato in taste, nutrition, and medicinal benefits, and it is highly valued in Shaka Vansiya Ayurveda as a prebiotic. With its slippery nature, taro serves as a binder of toxins. In the words of Dr. Marianne Teitelbaum, taro is the "packaging and shipping" of toxins—it binds them together and drives them out of the body, making it an important ingredient in detox.
BOTANICAL NAME • Colocasia esculenta
SANSKRIT NAME • Alooki
AYURVEDIC ATTRIBUTES
Taste • sweet
Qualities • heavy to digest, gooey, sticky
Metabolic Effect • cooling (some varieties are warming)
Post-digestive Effect • sweet
Dosha Effect • reduces Vata and Pitta, increases Kapha
Healing Benefits • relieves inflammation in the lungs, heals the lining of the small and large intestines
SOURCING
• Depending on where in the world you live, you will find taro at a farmers market or at an Indian or Asian grocery store. It might be listed as one of its international names: albi, arwi, dasheen, or eddo. If you can't find taro, look for one of its close cousins: yautia, malanga, nagaimo or even yucca.
• There are two main types of taro: a very large one (common in Hawaii) and a smaller, potato-size one with a brown and hairy skin. I use the small ones because they are easier to digest.
SEASON
• Celery root is seasonal in the fall, winter, and early spring.
DIGESTABLITY
• Always peel and cook taro root to minimize the calcium oxalate content found in its skin.
• Vaidya Mishra recommended that we eat taro at least twice a week (daily is also fine) to benefit from its binding properties. To make taro more Kapha balancing, add black pepper, chile or ginger to the recipe.
COOKING TIPS
• Before washing taro root, peel, slice off any brown spots, and chop it—water makes the vegetable slippery and harder to cut.
• Cook taro until it is completely done and tender. A crunchy, half-cooked taro will produce ama.
• Mashed taro is a delicious substitute for mashed potatoes.
• These cooking methods work well with taro: stewing, roasting, braising, steaming, boiling.
USE TARO ROOT WHEN YOU NEED TO:
• reduce symptoms of rheumatoid arthritis
• lower high blood pressure
• lose weight,
• ease body cramps
• thicken your hair
• prevent bone loss
• stimulate circulation
• improve your gut microbiome
• detox
Related Articles and Recipes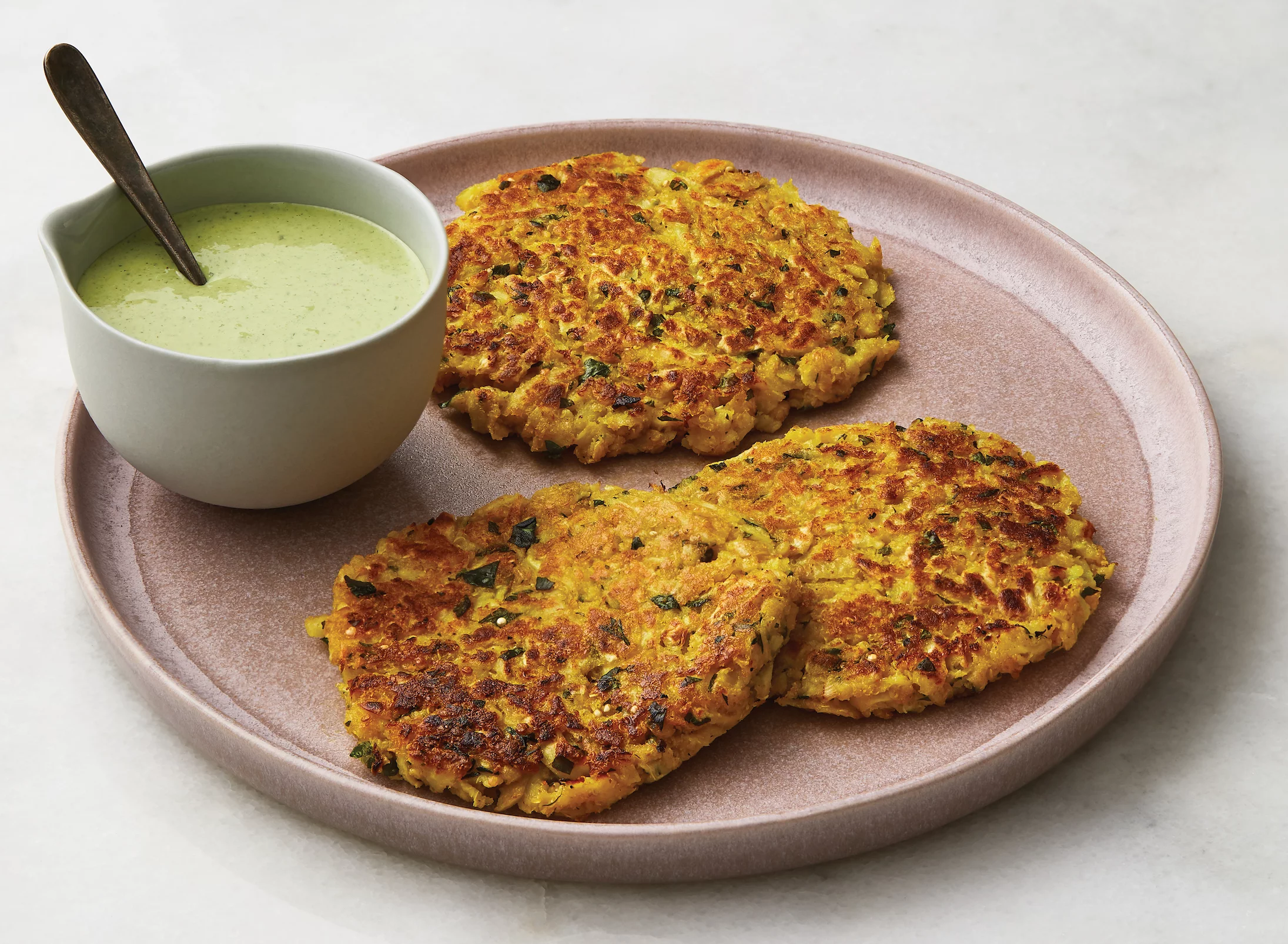 Recipes
A healthier, more balancing alternative to potato pancakes. Although they're great any time of year, Divya prefers them in the colder months.
In the Kitchen
An unsung hero among root vegetables, celery root is revered by Ayurveda for its healing properties, metabolic effect and complex, earthy flavor.